Struggling With The Second Born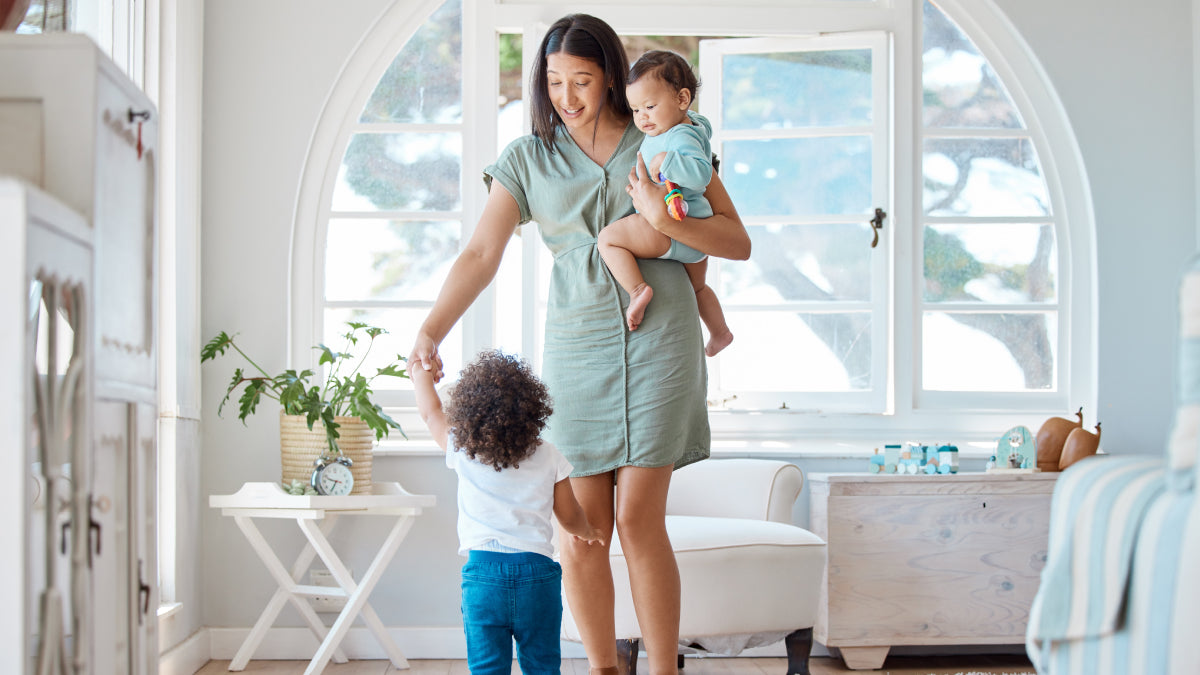 "Motherhood teaches you about the strengths you didn't know you had." –Linda Wooten.

Embracing motherhood for the second time feels like being on cloud nine. It is true in a sense that mothers not only make room for babies in their belly, but also in their hearts. Everyone tells you that since you already have had a child, it will be super easy for you. As when you start feeling like you've figured everything out as a mother, the second one makes you think twice. Although preparing for the second one is super easy as you already know the prerequisites, raising two kids in itself is a challenge at a whole new level. You don't feel prepared enough as only you know it's double the trouble. Between caring for the baby and meeting endless demands of your older one, mothers are constantly on an emotional rollercoaster.

Here we are listing some of the different phases and challenges that you face as a second time mother:

Welcoming Your Newborn:
It's a little tricky at first as you tend to forget how it felt like to have a newborn. You were excited to have a baby and when you finally took it in your arms for the first time, you were amazed to see that you had forgotten how tiny the baby feels. You are equally excited to see how well your first child gels up with the new baby.

Breastfeeding:
Even though you think that this time around breastfeeding will be, like your toddler says easy-peasy, but you are in for a surprise, it's as difficult as the first time. Waking up multiple times in the night, endless latching sections, pinching your belly and back, the countless bits and bruises and getting startled and smiling when you scream. Relatable right? But that beautiful soothing smile automatically brings a smile on our face and makes it all worth it.

Low on Energy Levels:
Even after the second delivery your body takes time to recover back to its normal state. Sleepless nights make you feel physically drained and as a result you feel extremely low on energy levels during the day. And, with a demanding toddler or first born, things get really challenging and you feel both physically and mentally exhausted. At this time asking for help from your near and dear ones and making the most out of them will really help ease out the situation.

Postpartum Depression:
Postpartum depression is not just for the first timers, you can have it the second time around too. Things can be more overwhelming during this time, as you already have a demanding young one to look after along with catering to the needs of the baby. Be easy on yourself and ask for help from loved ones or even professional help if required.

Selfcare After Delivery:
By this time you would know how important self care really is after delivery. Here are somethings to keep in mind – make sure you eat right, catch on your sleep when you can, get a Jappa service (a specialized maid who helps a new mother with massage, food, also massages and bathes the baby, takes care of the newborn etc.), consult your doctor and start exercising when she allows, think positive, start meditating etc. will all help to have a healthy mind and body.

Boosted Confidence:
You feel more self-assured in handling and taking care of the baby as past experiences have prepared you enough for this time. You know you can now trust our instinct even more, as you have the experience of caring for the first one. You can be smarter and handle the situations more tactfully, learning from your past experiences.

Pro at Multitasking:
After becoming a mother for the second time, you realize that you have the genius abilities and superpowers to multitask like you never knew. Juggling between the two and trying to pay them equal attention you learn a lot during the process. Learning to prioritize and plan (which seems impossible) as much as possible and staying organized, combining mindless physical tasks with mental tasks all helps you get through the day.

Effect on Memory:
Those sleep deprived eyes which you can put to sleep in a jiffy, really take a toll on a lot more than just the physical endurance. It does strange things to your memory, so if you think that you are going crazy and forget a lot, your lack of sleep is the one to be blamed. So make a to-do list, plan ahead, don't shy away from using timers, reminder apps and other gadgets to get you going throughout the day. It will make your life easy and will give you mental peace.

Being there for the first while caring the second:
It's the biggest struggle most of the mothers face at this time. The first one is as demanding as he/she was while the second one is more vulnerable and needs utmost care and takes most of your attention. This time is tricky as you are mostly in guilt for not paying attention to the first one, as you are mostly taking care of the baby. Despite the guilt, "You will love them the same way, despite your fear. Your heart doesn't split, it just doubles in size.", as rightly said by Kerry De Roque Guice, a mother of two.

We are sure all of the above points sound familiar to you, so here are a few tips and tricks to make your life a little less stressful.

Prioritize, plan ahead, set reminders and make to-do lists – these will help you immensely to get you through the day.
Train your second child to be independent from the beginning. Be it potty training, self eating, organizing their toys etc. Not only will it help build their social skills but also allow you to spend quality time with them.
Teach the first born to be more patient. Don't stop them from asking questions, instead, engage in discussions with them about their siblings and how things are changing.
Take it easy, your hands are too full. You eventually learn to be okay with certain things that you didn't approve of with your first born.
Keep telling your first one how much the baby (second one) loves him/her, this will help create a beautiful bond between the two. Siblings' bond is special and they can love each other fiercely and it's a beautiful thing.

Motherhood is a blessing and we know being a mother of two is not an easy job, but when you see both of them giggling, laughing, playing and loving each other, you definitely feel like it's the best job you've done.